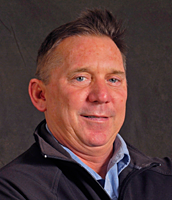 Jon Stevenson
Class of 1996
Active: 1980 - 1995
21 Open Victories
Jon Stevenson was ahead of his time both in the beginning and in the end.
Stevenson was a true visionary for beach volleyball, excelling as a top player for almost two decades and then making his mark as coach. He tragically passed away at the young age of 54 in June of 2012.
Widely credited for being the best on-court strategist of any era, Stevenson combined exceptional athleticism, great ball control and an intense work ethic to win 23 open tournaments. Perhaps more importantly, he proved players under six-feet could excel in the modern version of the game.
He first broke into the spotlight when he finished second at the 1980 World Championship in Redondo Beach's Seaside Lagoon, partnering with long-time friend Mike Dodd to place second to Andy Fishburn and Dane Selznick.
Also a high school basketball phenom, Stevenson first attended BYU to play hoops before transferring to UC Santa Barbara to land a spot on the Gauchos' volleyball roster. His calling was the beach, however, where he would often train by himself and invent new drills. He is credited with changing the warm up hit in beach doubles, where the hitter first tosses the ball to the setter and then digs a pass before beginning the attack approach. It's a nuance taken for granted in today's game, but Stevenson was the first to implement what is now a basic warm-up drill.
He played with an array of partners, including 1996 Olympic gold medalist Kent Steffes (who he helped to his first career victory), Olympic silver medalist Mike Whitmarsh, Jim Menges, John Hanley, Craig Moothart, Andrew Smith, Pat Powers and Dodd.
He had his longest run with Hanley (playing in 65 tournaments together and winning nine), but his most successful run came with Powers in 1988 when they won seven events together and more than $111,000 in prize money.
He served a long stint as the president of the Association of Volleyball Professionals, where is passion to stay connected to the game after his playing days surfaced.
A natural teacher Stevenson poured himself into indoor coaching without the entitlement a pro star might expect. He served grueling stints at UC San Diego, Wyoming, Sonoma State, St. Mary's and Cal Poly. He teamed with Dodd again two years prior to the 2012 Olympics to help develop the Italian beach national team. Stevenson helped train Italy's Daniel Lupo and Paulo Nicolai – the Italian team that knocked out defending gold medalists Todd Rogers and Phil Dalhausser at the London Olympics.
Lupo was so impacted by Stevenson's devotion to the game, he insisted on giving his first FIVB medal in honor of his late mentor.
Despite his ability to both play and teach the game, Stevenson's most memorable impact may be simply the joy he extracted from the sport. As a young teen he brainstormed the idea of dressing up as the AAA stars of the day to compete in the 1974 Manhattan Beach Six-Man Tournament. That simple idea helped the event morph into the most popular volleyball spectacle in the world. Like his simple warm up drill, it was just an indication of Stevenson being ahead of the curve.
written by:: Jon Hastings