CBVA &
Hermosa Beach Historical Society
CBVA
The CBVA is synonymous with Beach Volleyball and is celebrating its 49th year of developing and promoting this popular Olympic sport at the grass-roots level. Many of the Game's greats have came through the ranks of our rating system. The tournaments take place throughout the entire year, with the majority of events happening in the spring and summer months. We pride ourselves in providing a training ground for every age group and "All Levels of Play". The scope of our Youth programs as well as our Adult Schedule feeder programs into the International arena is unparalleled! The CBVA leads the nation in the development of Beach Volleyball.
Hermosa Beach Historical Society
The mission of the Hermosa Beach Historical Society is to acquire, preserve, and interpret historical memorabilia and other materials pertaining to the history of the City of Hermosa Beach. This collection shall be extended to the public as a source of delight, illumination, and lifelong learning.
Established in 1987, its offices and the museum are located in the Hermosa Beach Community Center, which is located at 710 Pier Avenue (the large building on the southwest corner of Pier Avenue and Pacific Coast Highway).
Hall of Fame Criteria:
1. Top ranked volleyball players who have maintained a high degree of excellence and superior play over a significant period of time and demonstrate significant CBVA participation.
2. Someone who has devoted a major part of their life to the sport of Volleyball and has made positive and meaningful contributions.
3. For a player to be considered as a nominee, there must be a 5 year interval after playing at their highest competitive level.
4. Annually, the Hall of Fame Committee will develop a slate of player nominees and select at least one male, and one female, with no more than three players being inducted each year. An additional person may be selected in criteria (2) from time to time, in addition to players selected in criteria (1).
Our team

Kevin Cleary
Kevin serves on the CBVA Board of Directors and has been instrumental organizing and promoting the CBVA Beach Volleyball Hall of Fame induction ceremony each November. The first ceremony took place in 2011 and sold out. 45 Hall of Famers attended that year making it the first time ever that all these former players had been in the same room together, quite a moment with lots of laugher, smiles and great stories. Kevin also coordinates and oversees the development of this website.
He started playing Beach Volleyball in Manhattan Beach as a young teen and was a top player on the Pro Tour in the 1980s. In 1983 he was a founder and first President of the AVP and in 2010 was inducted into the CBVA Beach Volleyball Hall of Fame. Kevin has played in a record 36 Manhattan Opens and is the oldest player to ever earn his "AAA" rating.

Chris Brown
President of the CBVA from 2005 – present.
Under his stewardship, the CBVA developed a strategic partnership with the Hermosa Beach Historical Society to create a physical location for the CBVA Hall of Fame. Membership and Tournament Participation have also risen dramatically during this period.
As a member of the USA Volleyball Nominating and Governance Committee (2010 – 2012), he interviewed and vetted candidates for the USAV's Board of Directors.
In his capacity as tournament director for U.S. Open of Beach Volleyball (2007 – 2010) Chris helped this USAV sanctioned tournament grow from just over 100 teams in 2007 to more than 330 teams in 2010.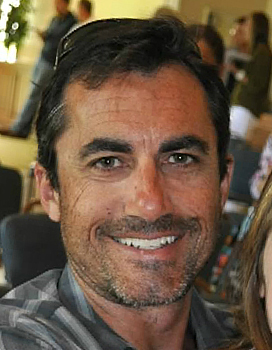 John Stalder
Website design & Digital Archive
John is responsible for designing the HOF website and Kiosk interface. He also oversees cataloging and photography of virtual and permanent collection.
He currently operates a freelance website design business that specializes in dynamic database driven solutions. John is a graduate of Art Center College of Design, BFA 1988.
Serving as Digital Archive Manager at the Los Angeles County Museum of Art (LACMA) from 1999-2005, he oversaw the archiving of 50,000+ items in their permanent collection. He has also consulted for various museums in the Los Angeles area.
A former "AAA" beach player, he grew up in the local beach culture and is committed to archiving the history of beach volleyball.
List of Contributors
Committee
HOF Selection
George Stephanof – Chairman
Chris Brown
Kevin Cleary
Barbra Fontana
Matt Gage
Liz Masakayan
Holly McPeak
Brian Meckna
Mike O'Hara
Jay Saikley
Sinjin Smith
Randy Stoklos
Writers
player bios
Brian Meckna
Chris Warshaw
Jon Hastings
Jill Gottesman
Jon Lee
Scott Russell
Photographers
Bruce Hazelton
Art Couvillon
Dewy Schurman
Fred Featherstone
Kevin Goff
Bob Van Wagner
Robbie Hutas
Chris Miller
Video
live interview production
Dave Behar